Welcome to Claybourn Manufacturing Wholesale Website
Ever since Claybourn was founded in 1910, we have never stopped providing the top quality garments. Claybourn will never stop in its own success but also it will also take a further step to provide full range styles in the future.
"Premium, Timeless, Ethical Fashion."
At Claybourn, we want to make products that last you a lifetime and don't harm the environment. Our collections are fashionable, ethically produced and focus on quality not quantity. We want you to look and feel great in our products, and are confident that you will. With over 110 years of experience providing quality garments for Australian & beyond we are proud to provide quality garments that will be cherished for years to come and carry on the Claybourn legacy into the future.
CLOTHING MANUFACTURING IN 3 EASY STEPS
The process of manufacturing clothes Embark on a journey through the artful process of clothing production. It is our commitment to producing clothing here in Australia.
STEP 1: QUOTATION

Imagine the possibilities of creating your perfect space. Our quotation process ensures every detail is personalized to your unique style and needs.

STEP2: SAMPLING

Create meaningful memories with our top-of-the-line craft supplies. Let your creativity shine and bring your ideas to life!

STEP 1: PRODUCTION

Experience the world of clothing production with our expertly crafted garments. From design to manufacturing, we pride ourselves on delivering exceptional quality.
Let's Talk About Your Style
Claybourn celebrates its connection with nature, therefore the photos should convey the harmony between our apparel and environment. Models should keep a clean appearance for the photo shoot. Avoid taking photos with insufficient light as the garment has to displayed well on the model. It is encouraged to take Herritage range photos in open fields/Nature setting and Fashion range at clean geometric architecture.
Progressive + Versatile
Re-bourn Collection
Vintage Design
Mitigate the Risk Associated with Your Inventory
Experience the Unmatched Quality of our Products and Elevate Your Lifestyle! With our low minimum order of up to 80-100 pieces. This approach allows emerging brands to discern effective strategies without negative environmental impact or substantial expenses.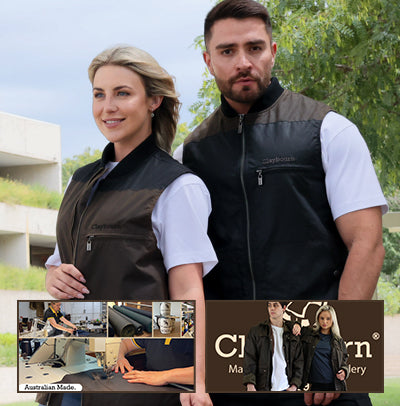 Our Quality Assurance is Guaranteed
Experience the Unmatched Quality of our Products and Elevate Your Lifestyle! With our low minimum order of up to 80-100 pieces. This approach allows emerging brands to discern effective strategies without negative environmental impact or substantial expenses.
Quality Embroidered Designs
Experience the artistry of our carefully embroidered logo, a symbol of our dedication to quality and craftsmanship.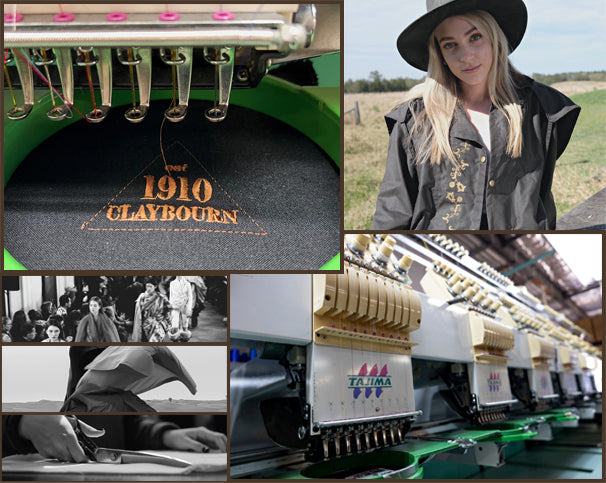 Let Our Expert Craft It For You
Discover the Art of Embroidery: Unveiling the Intricacies of this Timeless Craft. Explore the Rich History and Techniques of Embroidery: Unlock the Secrets of this Timeless Craft.
Our Clients
What do you need help with?
What types of products do you manufacture?

We specialize in manufacturing a wide range of clothing products, including jackets, shirts, pants, dresses, and accessories. Our expertise extends to various styles, materials, and customization options.
Are your products made in Australia?

Claybourn is Australian-owned and designed. Our Vintage collection has been manufactured In Australia since 1910 and will continue with this tradition. Some of our other collections may be manufactured in one of our partner Countries which have been carefully selected all over the world to continue our high quality, sustainable and ethical standards.
How do you ensure ethical manufacturing practices?

We are proud members of ECA Ethical Clothing Australia, and our practices align with their stringent ethical standards. Our supply chain is transparent, and we prioritize fair labor practices and sustainability at every stage of production.
Can I customize the products to fit my brand's style?

Absolutely. We offer customization options that allow you to infuse your brand's unique style into our products. From design tweaks to embroidery and labeling, we work closely with you to bring your vision to life.
What is your approach to quality control (QC) and quality assurance (QA)?

Quality is at the core of our manufacturing process. We implement thorough QC and QA measures at various stages of production to ensure that every garment leaving our factory meets the highest standards of craftsmanship and durability.
Can you handle large-scale production orders?

Yes, we have the capacity and experience to handle both small and large-scale production orders. Our advanced manufacturing processes and skilled team allow us to deliver consistent quality regardless of order size.
Do you offer pattern making and sample development services?

Absolutely. Our pattern making and sample development services are integral to our comprehensive offerings. We create precise patterns and prototypes that capture your design intent and ensure a flawless final product.
What are tech packs, and do you provide them?

Tech packs are detailed documents that outline the specifications and requirements for each garment. We offer tech pack development services to ensure clear communication and accurate execution of your designs.
Can you accommodate embellishments like embroidery, patches, and prints?

Yes, we specialize in intricate embellishments that add a unique touch to your products. Whether it's embroidery, patches, prints, or other embellishments, we have the expertise to deliver exceptional results.
How can I get a quote for my manufacturing project?

Getting a quote is easy. Simply reach out to us through our Contact Us page or use the provided contact details. Provide us with the details of your project, and our team will promptly assist you with a customized quote.